In this segment, we showcase the most notable albums out each week. Here are the albums out on June 16, 2023:
---
Sigur Rós, ÁTTA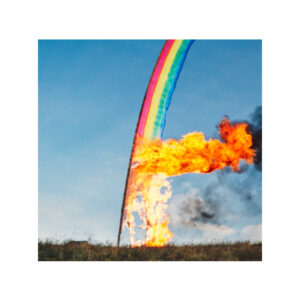 Sigur Rós are back with their first new album in a decade. ÁTTA is out now digitally, with physical formats to follow in September. The album was preceded by the single 'Blóðberg' and features the London Contemporary Orchestra conducted by Robert Ames, as well as brass from longtime collaborators Brassgat í bala. In press materials, frontman Jónsi said the band approached the album "wanting to have minimal drums and for the music to be really sparse, floaty and beautiful. We're getting older and more cynical so I just wanted to move us so that we felt something!" Sveinsson added, "We wanted to allow ourselves to be a bit dramatic and go far with these arrangements. The world needs that right now. It's hard to describe, but for me everything is always open to interpretation. People can think and feel how they want."
---
Queens of the Stone Age, In Times New Roman…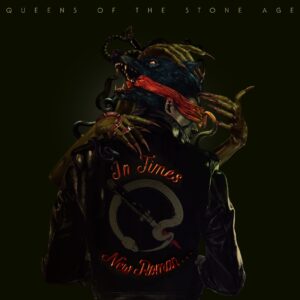 Queens of the Stone Age have released their eighth LP, In Times New Roman…, via Matador. The band's first album since 2017's Villains includes the previously shared songs 'Emotion Sickness', 'Paper Machete', and 'Carnavoyeur'. It was recorded at Homme's own Pink Duck studios, with additional recording at Shangri-La. Mark Rankin mixed the LP, which was produced by the band. Just days ahead of its release, frontman Josh Homme revealed that he was diagnosed with cancer last year.
---
Killer Mike, Michael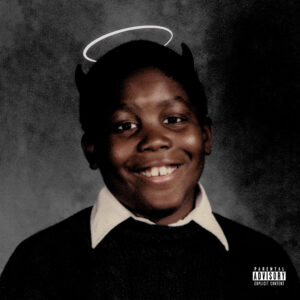 Killer Mike has returned with MICHAEL, his first solo album in over a decade. The follow-up to 2012's R.A.P. Music boasts guest appearances from André 3000, Future, CeeLo Green, Jagged Edge, Ty Dolla $ign, 2 Chainz, El-P, and Eryn Allen Kane. It was executive produced by No I.D. and Killer Mike. "This is the album I've wanted to make my entire career, the rapper said in a statement. "Michael is the first time I've been able to put all of me in to a project the way I've always envisioned it." The singles 'Run' with Young Thug, 'Don't Let the Devil' with El-P and thankugoodsir, 'Talk'n That Shit!', 'Motherless', and 'Scientists & Engineers' arrived ahead of the album's release.
---
Home Is Where, the whaler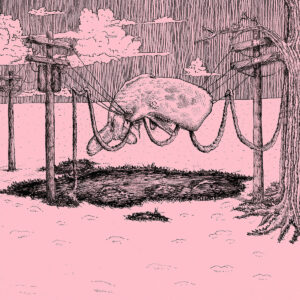 Home Is Where have dropped a new record, the whaler, which follows 2021's I Became Birds. Out now via Wax Bodega, the 10-track effort features the singles 'yes! yes! a thousand times yes!'  and 'floral organs'. "The idea for the record came to me in the spring of 2021 when I realized I wasn't doing too hot mentally, and had a nervous breakdown," frontwoman Brandon MacDonald explained in a statement. "A lot of it is a very negative record, which was scary to write because I was being honest with myself and allowing a lot of fucked up thoughts to be in the songs. I was more vulnerable than I was used to being in art."
---
Hand Habits, Sugar the Bruise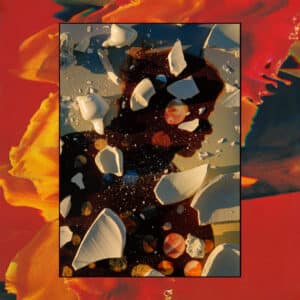 Hand Habits, aka Meg Duffy, has put out a new mini-album titled Sugar the Bruise (via Fat Possum). Following 2021's Fun House, the record was co-produced with Luke Temple and was inspired by a month-long songwriting class Duffy taught in the summer of 2021. "For Sugar the Bruise, I had no plan other than to let my mind go blank, and lean into the playful side of things," Duffy explained in a press release. "To laugh a little, to lighten up, to shift the focus off of my own experience a bit." Ahead of the release, they unveiled the tracks 'Private Life', 'Something Wrong', and The Bust of Nefertiti'.
---
King Gizzard and the Lizard Wizard, PetroDragonic Apocalypse; or, Dawn of Eternal Night: An Annihilation of Planet Earth and the Beginning of Merciless Damnation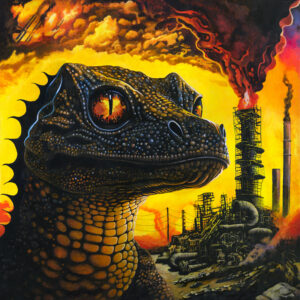 King Gizzard and the Lizard Wizard have released PetroDragonic Apocalypse; or, Dawn of Eternal Night: An Annihilation of Planet Earth and the Beginning of Merciless Damnation. The new album serves as the band's second full-length excursion into thrash, following 2019's Infest The Rats' Nest. "When we made Rats' Nest, it felt experimental," frontman Stu Mackenzie explained. "Like, 'Here's this music that some of us grew up on but we'd never had the guts or confidence to really play before, so let's give it a go and see what happens'. And when we made that album we were like, 'Fuck, why did it take us so long to do this?' It's just so much fun to play that music, and those songs work so well when we play them live. So we always had it in our minds to make another metal record."
---
May Rio, French Bath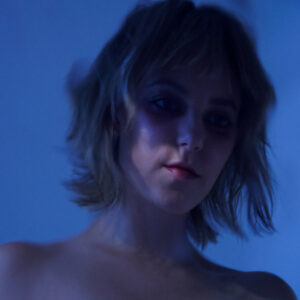 French Bath is the second LP by May Sembera, the NYC artist who performs as May Rio. The follow-up to 2021's Easy Bammer was co-produced with Tony 1 of the eclectic duo Tony or Tony and includes contributions from Brooklyn singer-songwriter Dougie Poole, Tredici Bacci's Simon Hanes, Greg Rutkin of Customer, and Syl DuBenion of Standing on the Corner. The tracks 'Need You Like', 'Aspartame', and 'NYC UMTs' were unveiled ahead of the LP's release. "I don't have a built-in way that music should be in my head," May remarked in press materials. "I follow my ear."
---
Boris and Uniform, Bright New Disease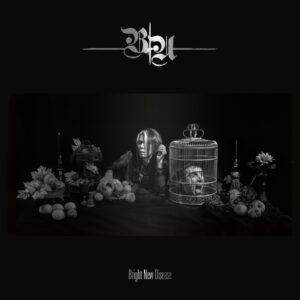 Sacred Bones labelmates Boris and Uniform have unveiled their new collaborative LP, Bright New Disease. "On tour, we learned more about the depth of their musicality, which we felt was compatible with our own expression," Boris Atsuo and Takeshi said of Uniform. "They are a band that can be described in many ways — punk, metal, industrial — but they truly excel because they are not locked into any style. They are always experimenting and innovating." Uniform vocalist Michael Berdan added of the record: "In the end, it sounds like the crystalized essence of both bands at the heights of their creative abilities. It is a testament of friendship and hope in the face of a world on fire."
---
Deer Tick, Emotional Contracts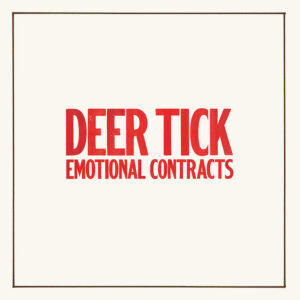 Deer Tick have put out a new LP, Emotional Contracts, via their new label home, ATO Records. The Dave Fridmann-produced LP features a guest appearance from Steve Berlin of Los Lobos, plus background vocals from Courtney Marie Andrews, Vanessa Carlton, Kam Franklin, Angela Miller, and Sheree Smith. "Each track is like a little deal you make with yourself (a contract if you will)," the band wrote in a statement. "Much of the material focuses on the fight to survive. A timely coincidence with all the COVID lockdowns and cancelled shows…or perhaps all of that was subconscious inspiration. But here we are; Deer Tick lives to see another day."
---
Bonny Doon, Let There Be Music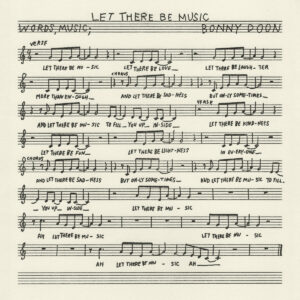 Bonny Doon – the Detroit trio composed of Bill Lennox, Bobby Colombo, and Jake Kmiecik – have come out with Let There Be Music, their first LP for ANTI-. After touring behind their 2018 record Longwave, the band was invited by Waxahatchee to contribute on 2020's Saint Cloud and served as a backing band on her tour. At the same time, Kmiecik's complications with Crohn's disease and Colombo's brain injury and undiagnosed Lyme drew out the making of Let There Be Music for several years. According to press materials, "the album serves as less of one conceptual story, and each song as their own individual offerings of putting words to the ordinary experience of being alive."
---
Other albums out today:
Caterina Barbieri, Myuthafoo; Yusuf / Cat Stevens, King of a Land; Asake, Work of Art; Fust, Genevieve; Kool Keith, Black Elvis 2; Django Django, Off Planet; Ben Howard, Is It?; Jack River, Endless Summer; Meshell Ndegeocello, The Omnichord Real Book; SunYears, Come Fetch My Soul!; Rodeo Boys, Home Movies; Bettye LaVette, LaVette!; Creeping Death, Boundless Domain; Yokel, Grockle Vision; Burt Hussell, High Desert; An Moku & Stefan Schmidt, Raum Im Raum.