In this segment, we showcase the most notable albums out each week. Here are the albums out on June 25, 2021:
---
Tyler, the Creator, CALL ME IF YOU GET LOST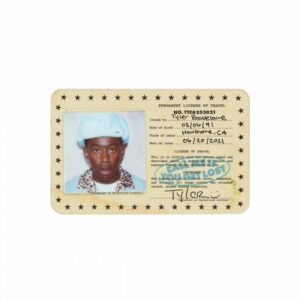 Tyler, the Creator is back with a new album called CALL ME IF YOU GET LOST (via Columbia). Arriving two years after his Grammy-winning 2019 album IGOR, the 16-track LP was previewed by the singles 'LUMBERJACK' and 'WUSYANAME', both of which arrived with videos directed by Tyler under the Wolf Haley moniker. 42 Dugg, Ty Dolla $ign, YoungBoy Never Broke Again, Lil Wayne, Teezo Touchdown, Domo Genesis, Brent Faiyaz, Fana Hues, Daisy World, Lil Uzi Vert, and Pharrell Williams guest on the project.
---
Lucy Dacus, Home Video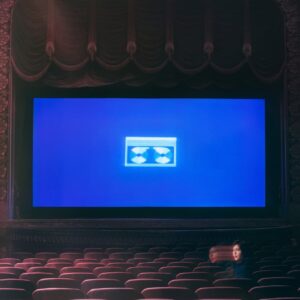 Lucy Dacus has released her third album, Home Video, via Matador. Reflecting on her years growing up in Richmond, Virginia, the follow-up to 2018's Historian was preceded by the singles 'Thumbs', 'Hot & Heavy', 'VBS', and 'Brando'. Recorded with her longtime collaborators Jacob Blizard, Collin Pastore, and Jake Finch, the LP also includes two songs featuring backing vocals from her boygenius bandmates, Phoebe Bridgers and Julien Baker. Read our review of the album.
---
Faye Webster, I'm Know I'm Funny haha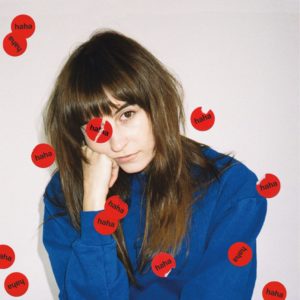 Faye Webster's new album I'm Know I'm Funny haha is out now via Secretly Canadian. The Atlanta singer-songwriter's follow-up to 2019's Atlanta Millionaires Club includes the previously released singles 'A Dream With a Baseball Player', 'Better Distractions', 'Cheers', and the title track. "This record is coming from a less lonely place," Webster said in a statement. "When I wrote AMC, I was living by myself and on some don't-know-what-to-do-with-my-own-time type shit. But now I'm living with my partner; I'm happy most of the time. I'm in such a different place. These songs aren't necessarily happier, but it's a different vibe."
---
Doja Cat, Planet Her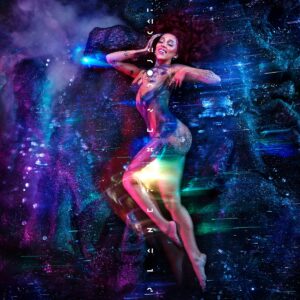 Doja Cat is back with her third studio album, Planet Her, out now via Kemosabe/RCA Records. The follow-up to 2019's Hot Pink features guest appearances by the Weeknd, Young Thug, Ariana Grande, JID, and SZA. "I think in the beginning, I was just trying to be solid and be what a pop artist already was: what I'd seen on TV and what I thought was the right thing to do," the rapper said in an interview with Billboard. "But as I move on into this Planet Her era, I want to introduce things to people as opposed to just re-create and rehash. It's just more inspiring to start from a more innovative spot."
---
Pom Pom Squad, Death of a Cheerleader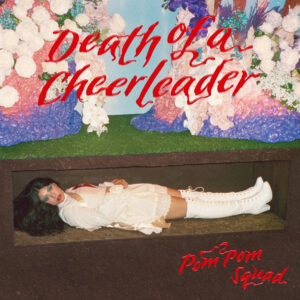 Pom Pom Squad, the Brooklyn-based outfit led by Mia Berrin, have dropped their debut album Death of a Cheerleader via City Slang. The album was co-produced by Berrin and Sarah Tudzin of Illuminati Hotties and includes the advance tracks 'Lux', 'Crying', 'Head Cheerleader' featuring Tegan Quin of Tegan and Sara, and the 2020 cover of 'Crimson & Clover'. Comparing Death of a Cheerleader to her sophomore EP Ow, Berrin told Stereogum: "This one has that heart but is delivered in a very different way, in a more whimsical, fun way."
---
Squirrel Flower, Planet (i)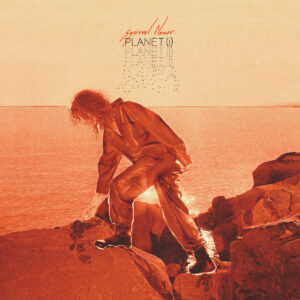 Squirrel Flower, the moniker of Boston singer-songwriter Ella Williams, has released her latest album Planet (i) via Full Time Hobby. The follow-up to 2020's I Was Born Swimming was recorded with producer Ali Chant at his studio in Bristol, with help from drummer Matt Brown and Portishead's Adrian Utley, as well as contributions from Jess Shoman (Tenci), Tomberlin, Katy J. Pearson, Jemima Coulter, Brooke Bentham, her brothers Nate and Jameson, and her father Jesse. Talking about the inspiration behind the album's title, Williams explained in our Artist Spotlight interview: "It's about my internal worlds, as well as planet Earth, and also the other planets in the universe. The album is ultimately about relating other external planets to my internal worlds."
---
Modest Mouse, The Golden Casket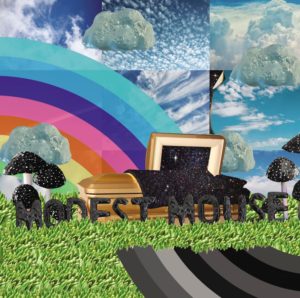 Modest Mouse have issued their seventh album, The Golden Casket, via Epic. Produced by Dave Sardy and Jacknife Lee and recorded in Los Angeles and in the band's studio in Portland, the 12-track LP marks the group's first new album in six years, following 2015's Strangers to Ourselves. It was preceded by the singles 'We Are Between', 'Leave a Light On', and 'The Sun Hasn't Left'.
---
L'Rain, Fatigue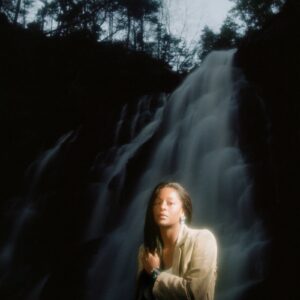 Fatigue is the sophomore album from Brooklyn-based experimentalist and multi-instrumentalist Taja Cheek, aka L'Rain. Released via her new label Mexican Summer, the follow-up to L'Rain's 2017 self-titled debut was co-produced by Cheek and Andrew Lappin and was previewed by the singles 'Two Face', 'Blame Me', and 'Suck Teeth'. "This album is an exploration of the simultaneity of human emotions… the audacity of joy in the wake of grief, disappointment in the face of accomplishment," L'Rain explained in a statement. "The pervasiveness of this layering of emotions can be surprising, empowering, and discouraging; these overlaps happen every single moment, all the time. I might be trying to be heard more on this record. You can hear more of the words, my vocals are louder."
---
SPELLLING, The Turning Wheel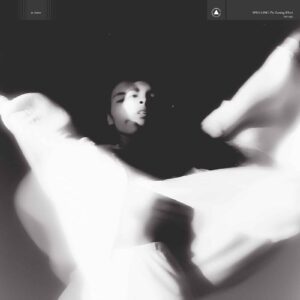 SPELLLING, the project of Bay Area-based artist Chrystia Cabral, has followed up her 2019 record Mazy Fly with a new album called The Turning Wheel (via Sacred Bones). Ahead of the album's release, SPELLLING shared the singles 'Little Deer', 'Boys at School', and the title song. Cabral self-produced and orchestrated the double LP, which features an ensemble of 31 collaborating musicians. According to a press release, The Turning Wheel "revolves around themes of human unity, the future, divine love and the enigmatic ups and downs of being a part of this carnival called life."
---
Lightning Bug, A Color of the Sky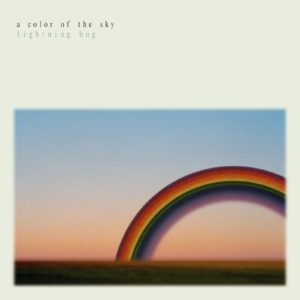 Lightning Bug have put out their third album, A Color of the Sky, via Fat Possum. Previously the trio of Audrey Kang, guitarist and vocalist Kevin Copeland, and engineer Logan Miley, the New York-based outfit now also features drummer Dane Hagen and bassist Vincent Puleo, who played in the live band. "Songs in the past sometimes felt muddled, or I felt lost where to take them," Kang explained. "But for this one, each song felt like a whole entity from conception. I want listeners to explore their own interior worlds. It's about learning to trust yourself, about being deeply honest with yourself, and about how self-acceptance yields a selfless form of love."
---
The Mountain Goats, Dark in Here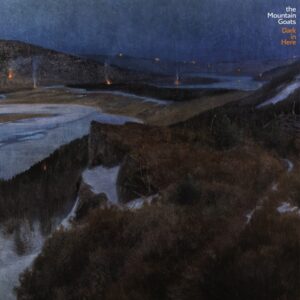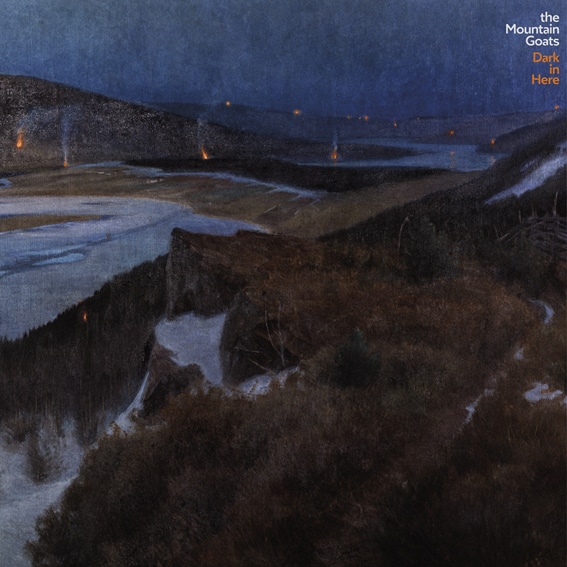 The Mountain Goats are back with another record, Dark in Here, out now via Merge. The band's 20th studio album was recorded the week between their most recent LPs, 2020's Getting Into Knives and Songs for Pierre Chuvin, at FAME Studios in Muscle Shoals, Alabama, with contributions from Muscle Shoals session players Spooner Oldham and Will McFarlane. "The Mountain Goats have been playing together as a band long enough to have developed a degree of musical telepathy, but listening to these two guys responding in real-time to us and each other revealed another level of connectedness altogether, one bordering on the supernatural," Mountain Goats bassist Peter Hughes said of working with McFarlane and Oldham.
---
Maple Glider, To Enjoy Is the Only Thing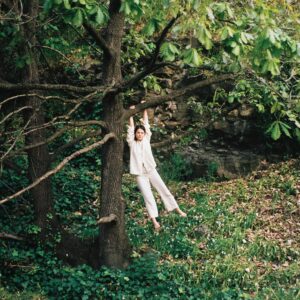 To Enjoy Is the Only Thing is the debut album by Maple Glider, the project of Melbourne-based singer-songwriter Tori Zietsch. Out now via Partisan Records, the album includes the previously unveiled singles 'As Tradition', 'Good Thing', 'Swimming', 'Baby Tiger', and 'Friend'. "This is what the album looks like to me: walking past tinsel covered trees in mid-September, swimming along the calanques in the south of France, car-bonnet frost, darkness at 4pm, lightness until 10pm, a muted feeling, the perpetual grey fog that swallows the Silver Coast, the colour red, this ugly green dress, red wine, red blood, red lips, red is the colour of the cardinal's robe, Switzerland, my mother's diaries, a coroner's report, the sun on my face, the end of love…"
---
Other albums out today:
Hiss Golden Messenger, Quietly Blowing It; SAULT, Nine; Hurry, Fake Ideas; Mabe Fratti, Será que ahora podremos entendernos; Helvetia, Essential Aliens; Gaspard Augé, Escapades; Matthew Dear, Preacher's Sigh & Potion: Lost Album; JP SAXE, Dangerous Levels of Introspection; Cautious Clay, Deadpan Love; Rose City Band, Earth Trip; Hiatus Kaiyote, Mood Valiant; John Grant, Boy From Michigan; Daniel Avery, Together in Static; Six Organs of Admittance, The Veiled Sea; The Marias, Cinema; Darkthrone, Eternal Hails; MNDR, Hell to Be You Baby; Armlock, Trust; Eli Keszler, Icons.