In this segment, we showcase the most notable albums out each week. Here are the albums out on October 7, 2022:
---
Alvvays, Blue Rev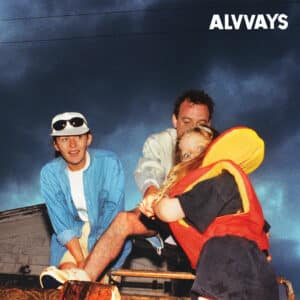 Alvvays are back with their third album, Blue Rev, out now via Polyvinyl/Transgressive. Spanning 14 tracks, the follow-up to 2017's Antisocialites was recorded in Los Angeles with producer Shawn Everett (the War On Drugs, Kacey Musgraves) and includes the advance singles 'Easy On Your Own?', 'Pharmacist', 'Belinda Says', 'Very Online Guy', and 'After the Earthquake'. "Every song on the album has gone on such a journey," vocalist Molly Rankin told NME, "and it was so satisfying going through each demo that I was in love with and listened to for years, and then comparing them with the new versions and really feeling like we've transcended them." Read our review of Blue Rev.
---
Indigo Sparke, Hysteria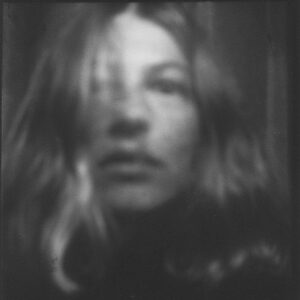 Indigo Sparke has released her second album, Hysteria, via Sacred Bones. Produced by the National's Aaron Dessner, it follows the Australian singer-songwriter's 2021 debut Echo and was preceded by the songs 'Blue', 'Pressure in My Chest', and the title track. "Aaron is such an incredible person, to feel his generosity and to feel him in my corner is a true gift," Sparke said in press materials. "It definitely took a moment for me to get used to a different way of working and hand my trust and heart over to him and his vision but it also felt so natural and we became close friends in the process." Dessner added: "It feels cohesive and timeless and inspired to me in a way that I know I will keep coming back to. I think the chemistry is right."
---
Sorry, Anywhere But Here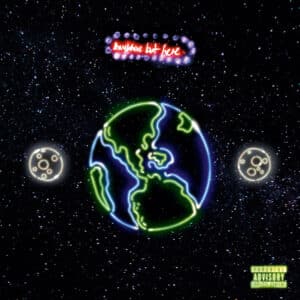 Sorry have returned with their sophomore full-length, Anywhere But Here, out now via Domino. The North London group – Louis O'Bryen, Asha Lorenz, and Ali Chant – recorded the follow-up to their 2020 debut 925 and last year's Twixtustwain EP in collaboration with Portishead's Adrian Utley in Bristol, drawing inspiration from 1970s songwriters such as Randy Newman and Carly Simon. "If our first version of London in 925 was innocent and fresh-faced, then this is rougher around the edges," O'Bryen said in a press statement. "It's a much more haggard place." The songs 'There's So Many People That Want to Be Loved', 'Let the Lights On', 'Key to the City', and 'Closer' offered a taste of the LP.
---
NNAMDÏ, Please Have a Seat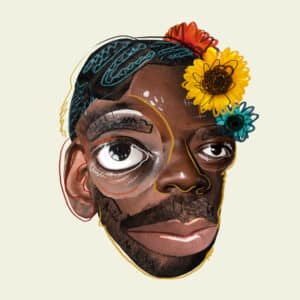 NNAMDÏ has put out his latest album and Secretly Canadian debut, Please Have a Seat. Written, performed, and produced entirely by the Chicago multi-instrumentalist, the LP was previewed with the singles 'I Don't Wanna Be Famous', 'Anti', and 'Dedication'. In our interview, NNAMDÏ cited stand-up comedy, Steven Universe, and long walks as some of the inspirations behind the LP, saying that it's mostly "about being able to reflect on moments and not just be continuously moving, to have those moments where you can sit down and be like, 'Oh, this is where I was at this time, this is how I was feeling. Wherever I was is where I was supposed to be.'"
---
Loraine James, Building Something Beautiful for Me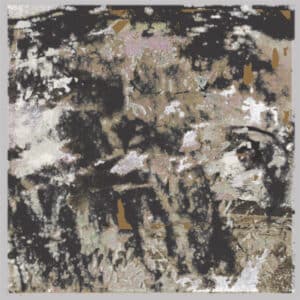 Loraine James' new album, Building Something Beautiful for Me, pays homage to the American composer Julius Eastman by reimagining and responding to his works. Out now via Phantom Limb, the project began when the UK label provided James with a drive of Eastman originals (courtesy of Gerry Eastman), Renee Levine-Packer and Mary Jane Leach's 2015 biography Gay Guerilla, and transcribed MIDI stems from Phantom Limb founder and A&R James Vella. James then crafted the album using samples, motifs, and imagery from Eastman's catalog. 'Maybe If I (Stay On It)' and 'Choose to be Gay (Femenine)' arrived ahead of the record's release. Read our review of Building Something.
---
Will Sheff, Nothing Special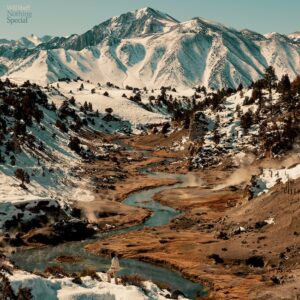 Out today via ATO Records, Nothing Special is the debut solo album by Okkervil River leader Will Sheff, who recorded the LP with his Okkervil River bandmates Will Graefe and Benjamin Lazar Davis, along with singer-songwriter Christian Lee Hutson, Dawes drummer Griffin Goldsmith, Death Cab For Cutie pianist Zac Ra, and guest vocalists Cassandra Jenkins and Eric D. Johnson. John Congleton, Matt Linesch, and Marshall Vore engineered the album, which Sheff began writing after moving to Los Angeles and quitting drugs and alcohol. "Working as Will Sheff, there was no back catalog, no history, no tradition," he explained in press materials. "There was only freedom and possibility."
---
King Gizzard & the Lizard Wizard, Ice, Death, Planets, Lungs, Mushrooms and Lava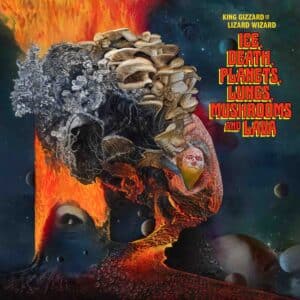 King Gizzard & the Lizard Wizard have unveiled the first of three albums they're dropping this month. Ice, Death, Planets, Lungs, Mushrooms and Lava includes the early tracks 'Ice V' and 'Iron Lung'. The band's Stu Mackenzie said of the LP in a statement: "All we had prepared as we walked into the studio were these seven song titles. I have a list on my phone of hundreds of possible song titles. I'll never use most of them, but they're words and phrases I feel could be digested into King Gizzard-world." Laminated Denim will follow on October 12, and Changes on October 28.
---
Open Mike Eagle, Component System With the Auto Reverse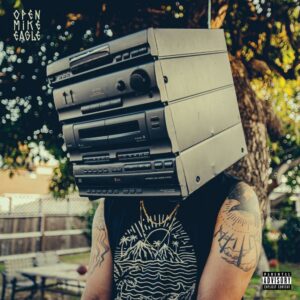 Open Mike Eagle's new record, Component System With the Auto Reverse, is out now. It features guest appearances by Armand Hammer, R.A.P. Ferreira, Aesop Rock, Serengeti, Diamond D, and more, as well as production from Madlib, Quelle Chris, Child Actor, Kuest1, and Illingsworth. "When I was in high school I used to stay up late to tape the hip-hop shows on college radio station WHPK on the south side of Chicago," the rapper explained in a statement. "I named each tape. I named one Component System. This album was made in the spirit of that tape but with new music from me. Some of the people on the original tape appear on this album, I'm so proud of that that it brings me close to tears."
---
Johanna Warren, Lessons for Mutants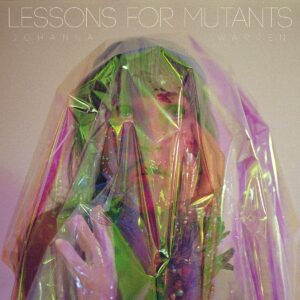 Johanna Warren has issued Lessons for Mutants, her sixth LP and second for Wax Nine/Carpark, which includes the early singles 'I'd Be Orange', 'Piscean Lover', and 'Tooth for a Tooth'. Warren began recording Lessons for Mutants in New York in tandem with the sessions for 2020's Chaotic Good, but didn't complete the album until she started quarantining in rural Wales. "There's this unspoken rule in modern music – modern life, really – that everything needs to be Auto-Tuned and 'on the grid,'" Warren said of the album, which was recorded live to tape. "This record is an act of resistance against that. There's beauty and power in our aberrations, if we can embrace them." Read our review of Lessons for Mutants.
---
Disq, Desperately Imagining Someplace Quiet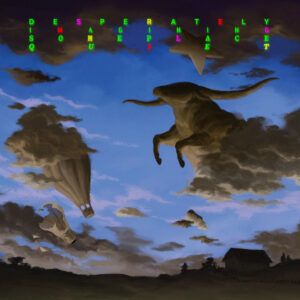 Disq have dropped their sophomore full-length, Desperately Imagining Someplace Quiet, via Saddle Creek. Produced with Matt Schuessler, the follow-up to 2020's Collector finds guitarist Isaac DeBroux-Slone and bassist Raina Bock trading singing and songwriting duties with guitarists Logan Severson and Shannon Conor. Ahead of its release, the Wisconsin-based previewed the LP with the singles 'Cujo Kiddies', 'If Only', '(With Respect To) Loyal Serfs', and 'The Hardest Part'.
---
Daphni, Cherry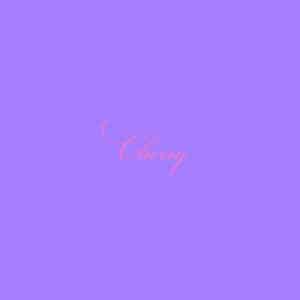 Caribou's Dan Snaith has released the latest album under his Daphni moniker, Cherry, via own Jiaolong label. "There isn't anything obvious that unifies it or makes it hang together," Snaith said of the LP in press materials. "I think it was good that it was made without worrying about any of that. I just made it." The follow-up to 2017's Joli Mai features the previously released singles 'Cherry', 'Cloudy', 'Clavicle', 'Mania', and 'Arrow'.
---
Broken Bells, Into the Blue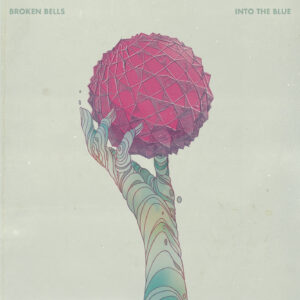 Broken Bells – the project of Brian Burton (aka Danger Mouse) and James Mercer of The Shins – have come out with a new record, Into the Blue, today via AWAL. Arriving eight years after their last collaborative album, After the Disco, the 9-track effort was preceded by the singles 'Love on the Run', 'We're Not In Orbit Yet…', and 'Saturdays'. The duo's influences on the new album – their first to feature samples alongside organic instrumentation and vocals – range from '60s psychedelia to 1970s rock, '80s new wave to '90s trip-hop.
---
Courtney Marie Andrews, Loose Future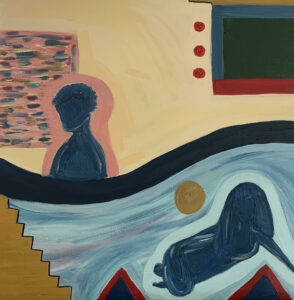 Courtney Marie Andrews' latest album, Loose Future, has arrived via Fat Possum. The Arizona singer-songwriter recorded and co-produced the follow-up to 2020's Old Flowers with Sam Evian at his Flying Cloud Recordings studio in the Catskill Mountains. The LP features the advance singles 'Satellite', the title track, 'These Are the Good Old Days', and 'Thinkin' on You', as well as additional contributions from Grizzly Bear's Chris Bear on drums and Josh Kaufman of Bonnie Light Horseman on various instruments.
---
Other albums out today:
Gilla Band, Most Normal; Bonny Light Horseman, Rolling Golden Holy; Dungen, En Är För Mycket och Tusen Aldrig; Willow, <COPINGMECHANISM>; Peel Dream Magazine, Pad; Dayglow, People in Motion; Sofie Birch & Antonina Nowacka, Languoria; Chloe Moriondo, Suckerpunch; Sun Ra Arkestra, Living Sky; Jessica Moss, Galaxy Heart; The Cult, Under the Midnight Sun; Ekin Fil, Dora Agora; Lamb of God, Omens; Macula Dog, Orange 2; Quavo & Takeoff, Only Built for Infinity Links; Gillian Carter, Salvation Through Misery; Keiji Haino & Sumac, Into this Juvenile Apocalypse our Golden Blood to Pour Let Us Never; Charlie Puth, Charlie; Heith, X, wheel; The Orielles, Tableau; Counterparts, A Eulogy for Those Still Here; Bush, The Art of Survival; Maxine Funke, Pieces of Driftwood; Ultraflex, Infinite Wellness; Isabella Lovestory, Amor Hardcore; Wunderhorse, Cub; Surf Curse, Magic Hour; FLOHIO, Out of Heart; Small Sur, Attic Room; Sunbeam Sound Machine, Possum; Bruno Bavota & Chantal Acda, A Closer Distance.